You can work up a sweat at the Ike Williams Boxing Academy in Trenton, and you can also get punched in the face.
Trenton has at least three boxing gyms right now. But the one owned and operated by Eric Judkins in the no frills former furniture storage room at the back section of 800 South Broad Street is the only one named for Trenton's lone world professional boxing champion.
Ike Williams' story is not as well-known as that of other fighters before and after World War II. It is obscured by the cigar and cigarette smoke that clouds the dimly lit arenas of our memory. We know it thanks to vintage images from black-and-white Kineoscopes, which predated television but not advertising. It is an era peopled by managers and promoters who kept far too much of the fighters' purses and who were nowhere to be found after the bouts that went on way too long by today's standards.
We can relive those fights today from the safe distance of YouTube, where Ike Williams still fights with the sinewy determination that earned him a spot on Ring magazine's list of 100 hardest punchers in boxing's history.
Williams' match against former lightweight camp Beau Jack becomes hard to watch when Williams seems to realize his opponent was putting up a minimal defense despite the brutal fusillade of punches. Williams can be seen in the video looking back to the referee as if to say, "Yo! Time to stop the fight," which the referee eventually did.
Williams fought as a lightweight and won the National Boxing Association world title in April, 1945, when he defeated Juan Zurita. He became the undisputed world lightweight champion with a sixth-round knockout of Bob Montgomery on August 4, 1947.
During his career, Williams faced and defeated former lightweight champions Sammy Angott, Bob Montgomery, and the unfortunate Beau Jack.
Williams kept the title until May, 1951, and he retired in 1955. The sport being what it was at the time and the times being what they were, Williams admitted to being broke in the years after he hung up his boxing gloves. He died in 1994 in Los Angeles at age 71.
There were few international boxing stars in Ike Williams' day. Today there are far more. They fight on HBO and pay-per-view with prize money in the multi-millions. It was unthinkable in Ike Williams' era to see a woman in the ring. Today there are women fighters who have entourages and television deals all their own.
For many young men living, predominantly, in American cities, the lure of boxing as a career option remains.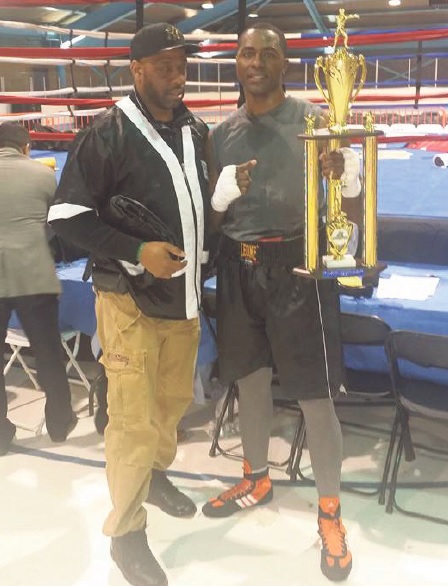 That's where Eric Judkins steps into the ring. Judkins, 48, is an assistant track supervisor for Amtrak by day and has been training fighters in Trenton since 2008, running the Ike Williams Boxing Academy near the intersection of South Broad and Hudson streets for the last two years.
He grew up in West Trenton and is a 1986 graduate of Trenton Central High School. He lives on Lalor Street. He is not married and has six children, all grown. His parents live in Lawrenceville. His mother worked for the Governor's Council on Drug and Alcohol Abuse and his father worked for the New Jersey Department of Transportation as an equipment inspector. He has a sister and a brother who live and work in Maryland and a brother who works for the Trenton Housing Authority.
"I boxed in the late 1980s and early '90s," he says. "It was something I always wanted to do growing up. Almost everyone I knew either boxed or had a family member who boxed. It was more popular than basketball.
"I participated in the Golden Gloves and Diamond Gloves. The Golden Gloves are designed as a state-run tournament but it is an advancing tournament where you can go on to the national Golden Gloves."
"I was average. I don't think I lived up to my potential," he says of his abilities as an amateur boxer. "I didn't have a coach like myself."
Preparing for the Golden Gloves tournament was a major focus for the young fighters at the Ike Williams Boxing Academy as winter gave way to spring this year. Judkins had two fighters, Donald Turner and Michael Hilton, move on to the national tournament in Las Vegas last year.
"That was my second time going as the coach," Judkins says. "I went in 2012. It was an experience."
Membership to his gym costs $40 per month. Judkins says the gym has 25 to 30 members. Inside, the gym is dominated by a boxing ring, and there is equipment including exercise bikes. At any given moment in the Ike Williams Boxing Academy, someone is likely beating up the speed bag or pummeling the heavy bag.
It is a man's gym, there is no mistaking it. Put the wrong music on the gym's iPod and Judkins is likely to yell out, "Turn that off, it's not masculine."
"A lot of women come on weekends," he says. The gym offers boxing exercise, functional movement, and line dance exercise classes.
"It's designed for boxing right now," he says, "but if I get enough space I can do other things. Women who join right now, that's the key, to offer things for the partners and wives of the boxers."
He is looking for a larger space for the gym to move into in the next year.
Judkins has a modern outlook on boxing, an ancient sport that even in the 21st century is not one for the faint-hearted.
"The object is to hit and then get hit as little as possible," he says. "Boxing has always been stigmatized as a sport where fighters don't leave with all their senses. In the last 30 years boxing has become safer. I try to teach them they need to have as many of their faculties as possible (when they leave boxing). That's why I teach defense. Boxing is a science. It's a martial art, actually. It's a discipline. We teach the academics and the fundamentals. If kids know the fundamentals then they won't get hurt as much."
Leading up to the state Golden Gloves, which took place at the end of April, Ike Williams fighters sparred with other clubs from throughout the state. One of the Golden Gloves semifinals took place at the Ike Williams gym.
"We don't participate in a lot of wars," Judkins says when asked how pitched the fighting gets at this level. "We try to box smart. Boxing is 90 percent mental."
It is possible, Judkins explains, for boxers these days to pursue purses and protect themselves so they can make a living in boxing that may last several years. Stardom remains rare, but a fighter today can make a go of it.
"Now the purses are slightly bigger so boxers don't have to put themselves so much at risk to feed their families," Judkins says. If you look at the records of the old-timers, many of them fought once every couple of weeks. The health of the fighter was a secondary issue. It was the era of infiltration of the sport by organized crime. There was immense pressure on fighters to perform for meager wages with outcomes not always determined by what went on inside the ring.
"It was a different game," Judkins says. "It was not the most economically rewarding sport. A lot of the football players and basketball players back then had to take a job in the off season. There's only a certain percentage of fighters who make enough money. If you have the right management and have the right people around you, you can have a lucrative career. That's what I'm stressing to them.
"I know more as a trainer than I ever knew as a fighter. If I had the knowledge of the sport then that I have now, oh man, I probably would have turned pro."
Amid the activity on any given night at the Ike Williams Boxing Academy, Judkins may be coaching the best way to slip a punch one moment and the best way to plan for a financial future the next. Young fighters may have big dreams, but the coaches are also looking at who comes in who might have the ability to become a special fighter.
"As the years went on my interest changed to coach and produce national champions and world champions," Judkins says. "With boxing, you never know who's going to walk through your door. There's always the potential of someone walking through your door and becoming the next Sugar Ray Leonard or Oscar de la Hoya."
Michael Hilton has turned pro and is supposed to have another fight this month. Summertime is when various tournaments are held. But entering tournaments costs money and there are also costs for travel and hotels, "So we try to stay local," Judkins says.
The example of his gym's namesake is always at hand for Judkins. Williams' family members are still in the area. Judkins says the family gave its blessing to the gym using Ike Williams' name. There is a photograph on the web of Ike Williams with his championship belt, but the belt was lost over the years, probably stolen.
"Ike — he was a world champion and the only world champion out of Trenton," Judkins says. "He was an advocate of the fighters getting their fair share of the purses. Those are the things in the back of my mind.
"They're taking the most risk so they should receive the most reward."
Ike Williams Boxing Academy, 800 (Rear) South Broad Street, Trenton, 609-213-8552.