Paul Henry Ramirez often talks to rooms.
Well, that's not entirely right: Paul Henry Ramirez often talks with rooms. It's actually much more of a dialog. And the upshot for Ramirez is that the walls always have interesting things to tell him.
If you need a visual reference, there's a dandy of an example of the artist's conversation with the West Gallery room of Hamilton's Grounds for Sculpture on display for the rest of this year. Entitled "Rattle," Ramirez's latest major art installation exhibit throws geometric forms, whimsy and deceptively simple-looking interplay of bold colors at the 60-by-60-foot space with such playfulness and precision, you won't be able to help but wonder exactly what secret language he and architectural spaces have when they sit down for a chin wag.
"Rattle," the Ewing resident says, is a reference to "rattling the way we see and experience paintings and sculpture." And by that, he's referring to the totality of experience that comes with art. You see, Ramirez isn't about just walking into a gallery and looking at framed paintings on the walls. He's a practitioner of sight and sound in art, incorporating sunlight, paint, ceramics, sound recordings, live music and dance into his site-specific installations.
And Rattle is a prime example of end-to-end sensory experience in action (except for touching, which you can't do with this show, but often can when Ramirez takes over an architectural space). Site-specific installations are his major calling card, forged from a lifetime in the creative arts and an early career as a window display artist in New York, where he learned how to converse with physical space.
Born in El Paso, Texas, in 1963, Ramirez grew up one of four children and started honing his artistry as a kid by drawing and coloring images from the Bible. He didn't get to college right after high school (though he did eventually get to the University of Texas-El Paso), but he was determined to go and compelled to make art every chance he got.
As a young adult, Ramirez met a guy from a museum in Juarez, Mexico, just over the border from El Paso, where the art scene was pretty much nonexistent in the 1980s. He was trying to get his work out there any way he could and found soon himself doing an exhibit there. The experience, in turn, inspired him to co-found a show for Latino artists in and around El Paso, including Juarez.
That show, "Juntos," which means "together" in Spanish, was the first of its kind in the region, and Ramirez expected it to be a cool thing he did once. But Juntos was so well-received, he put on a second version of it. Just after he left for the East Coast, Juntos became an association, and the show's been an annual event for 30 years.
Ramirez came east and lived in Trenton in the mid 1980s, where he worked in visual merchandising for Macy's at Oxford Valley Mall and for Lord & Taylor in Somerville.
In 1993, an art instructor at Raritan Valley College, where he was doing independent study, suggested Ramirez visit Fifth Avenue. His first walk up the famed boulevard was love at first sight, and he met the window designer at Henri Bendel, the upscale fashion and accessories store. The designer suggested sending a letter to the manager, and Ramirez suddenly found himself with a full-time job. Ramirez moved from New Jersey to New York to work as a window and displays designer for Bendel.
"It was a very creative job," Ramirez says. "My first window design was for Jean Paul Galutier."
Hobnobbing with the fashion industry's biggest designers and models brought Ramirez into the heart of New York's creative scene. Of course, he was still not "there" yet. He would work all day at Bendel and then return to his studio, staying up until midnight or so making art and trying to get his reputation built. He'd ventured into all the alternative spaces, getting his work seen and finding his voice.
In 1994, he got his first showing in New York, a group showing at the prestigious Drawing Center, where his ability to utilize space stood out. His first solo show followed a year later at Franklin Furnace, where the mission is "making the world safe for avant-garde art." The show caught the attention of The New York Times, which has, along with magazines like Bomb and Art In America, written about Ramirez's work several times over the years.
As Ramirez solidified his reputation as a foremost expert in form and color in spaces, he caught the eye of Caren Golden Fine Art. The Golden gallery asked Ramirez to do a show, and "the rest is history," he says.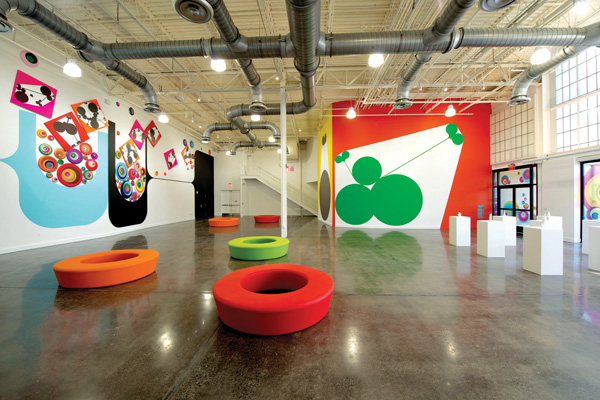 Ramirez spent 16 years represented by Golden, where he built an increasingly national and then international reputation as a master of room-sized installations that somehow coaxed all the coquettish, dreamy nuances they could from each space he entered. He is today represented by Ryan Lee Gallery.
As the centuries rolled over, Ramirez built installations in Los Angeles, San Francisco, Cincinnati, Houston and France. Those last three were for a show called "Elevatious Transcendsualistic," which opened in Cincinnati in 2001 and traveled to Houston, Saratoga Springs, New York and Paris.
Each incarnation took a new perspective because each space was different, Ramirez says. Same concept, but each version with fresh new energy, because that's the fun of art, that ability to keep it fresh and new and exciting by seeing it all for the first time again (which he can because it's always a new space to talk with).
It's OK if it sounds abstract since Ramirez's work qualifies as such. But a review of Elevatious Transcendsualistic by the Frances Young Tang Teaching Museum and Art Gallery at Skidmore College in Saratoga Springs can help give it a little more form.
"Curvaceous forms, heavy drips, flying squirts and waving hairs painted directly onto gallery surfaces emanated from painted panels and flowed onto adjoining walls and floors, exemplifying Ramirez's approach to architectural space as an empty canvas ready to be integrated with his playfully biomorphic imagery," it read.
The word "biomorphic" is something Ramirez is drawn to, and he loves to play with words as much as he likes to play with forms. In 2010, Ramirez coined the term "biogeomorphic abstraction" to describe his work.
The term itself practically drips with curves, like most of Ramiez's art. His work is full of curvaceous, voluptuous bounciness that blends kittenish playfulness with kittenish sexiness, and both aspects invite you to play along.
So by the time Grounds for Sculpture came a-callin' a couple years ago—large-scale displays in major art spaces don't happen in a couple hours—Ramirez was in the ideal position to be told something along the lines of, "Here's our space, what would you like to do with it?"
You'll have to see it for yourself to get the full feel, of course, but Tom Moran, chief curator at Grounds for Sculpture, said the installation "demonstrates the powerful vision of Ramirez. The two and three-dimensional worlds meet to form a dialogue as sculpture."
Indeed, but don't forget about the sound and performance. Ramirez got together with longtime friend So Takahashi, a furniture and interior designer and sound artist, to help build an aural environment of playful sounds to accompany the setting. Ramirez also is working with Philadelphia's BalletX for a live performance that is expected to take place in October.
Rattle will be on display through the rest of this year. In the meantime, he's already at work on his next project, and he isn't ready to let the public know what it is yet. Just know that it'll be colorful and playful, and it will have a lot of input from the walls.
As for being "there," well, Ramirez does feel like he's made it pretty far into "there" territory. His work is part of several permanent collections, including the El Paso Museum of Art, The Whitney Museum of Art in New York, Hirshhorn Museum in Washington, D.C., and the one he's most proud of, the Smithsonian American Art Museum.
Being in museums, he says, is important for artists. There is a professional validation to it unlike anything else.
"They could choose anybody," Ramirez said. "But they don't. And they chose me."