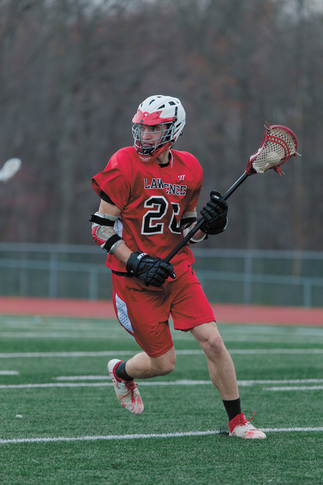 It took Brian Robb's coaches and teammates three days to find out he was even hurt.
The Lawrence High School senior attack took a full check while scrambling for a loose ball in the closing minutes of what would be a 10-6 win over Nottingham High School on April 8. Robb landed on his shoulder and suffered a deep bruise, but got up and finished the game anyway. It wasn't until the following Monday, when coach Daniel Brennan sat Robb after a slow start against Hightstown, that Robb's injury became clear.
Maybe it was that Robb had never had to sit out a game in his four years of varsity lacrosse and didn't know the extent of his injury, or maybe he figured he could play through the pain. Whatever reason Robb had to not say anything right away, it was proof that his game is more vocal than him.
"We joke about it all the time," Brennan said. "You don't get much out of Brian."
For a player whose role has been compared to that of a quarterback by his own coach, Robb doesn't like to promote what he does for the 5-2 Cardinals. He'd rather praise his team's "band of brothers" mindset and Brennan's positive intensity as a first-year head coach.
"We have great guys on defense and offense," Robb said when describing his team. "We're not one-sided, I would say. We don't have one guy on offense that can do it all. We work as a whole."
He came into the season with a realistic chance to hit the century mark for career goals scored, but instead cited hopes of winning the Patriot Division and getting more assists.
That Robb wasn't chosen to be a team captain in his senior season despite being experienced, selfless and intelligent—he'll begin pursuing an engineering degree at the University of Pittsburgh this fall—is more indicative of his quiet personality than anything else. His leadership is expressed loudly on the field.
"Every game is a good game for him," junior attack Mark Turkowski said. "I always remember, if I had a rough game or someone else did, any time we need someone to step up big, he's always there."
Robb's quiet demeanor goes both ways, Turkowski said. While Robb may not be the teammate yelling at others in practice, he also never complains. After watching Robb try to play through his shoulder injury, Turkowski called him a rock.
"I love playing with him," Turkowski said. "He is definitely a key leader. He does what he needs to do."
What Robb does is facilitate Lawrence's dynamic offense. The tall senior—whose background in soccer equips him with quick feet, great speed and wide field vision—leads the attack, often drawing extra defenders before getting passes out to Turkowski and sophomore attack Kyle Schuler. Turkowski has been playing with Robb since middle school and feels the pair share a connection on the attack.
"We know where the other one is going to be," Turkowski said. "His passes are on point, 100 percent of the time."
Once he's gotten a pass off, Robb switches from making plays to creating shots. Defenders may switch their attention to the high-scoring Turkowski, allowing Robb to get better position around the crease for the extra pass. It's one of his biggest focuses in practices.
"You definitely have to do a lot of practice in off-the-ball movement, being in the right position when you get the ball," Robb said.
Brennan said the senior knows to take advantage of what he's given from a defense. His length gives him an added advantage on the crease, and he can often get shots from behind the net. Any time Robb gets in the crease, Turkowski added, a goal is almost guaranteed.
Getting touches on the ball is Robb's primary offseason workout, though his busy schedule doesn't often lend him time for more than that.
"I just work out on my own," Robb said. "As long as you just keep getting touches on the ball in the offseason, it's not a lot but you come back and the skills are still there."
His stamina from years of soccer translates across sports, and he's rarely taken out for a rest despite having a propensity for high-motor "hustle plays."
"You wouldn't think such a quiet kid would get after it on the field," Brennan said. "He's not afraid to fight for loose balls or to get the extra inch."
Robb is always fighting for extra possessions and forcing ground balls, Turkowski said. He brings an intensity to games, and often makes up for mistakes with this sort of play. That's what makes his injury all the more convincing to Turkowski.
"When he's not playing, you know it's something serious," the junior attack said.
Robb has been rehabbing his shoulder with the school's athletic trainer and was cleared within a week. While he's happy for how the team has played in his absence, he's been "itching to get back out there." He has little time left in his competitive lacrosse career, and spending it yelling to teammates from the sidelines isn't his style.
He first started playing lacrosse in fifth grade, following friends to what sounded like a fun, fast-paced game. Robb wants his career to end with the same thing in mind—his friends.
"I'll remember working hard with all the guys, working hard for each other," Robb said. "There's not one specific memory, but just in the course of all four years, how we are always looking out for each other and helping each other out."
Brennan has had an interesting perspective on Robb's high school career, having served as an assistant coach since his freshman year before becoming head coach for his senior year.
"It's been a pleasure to coach him for the last four years, and get to see him mature as a great lacrosse player and even better kid," Brennan said.
Turkowski remembers coming in as a freshman to a struggling varsity squad and immediately looking up to the sophomore Robb, already leading by example. Two years later, Robb's helped give him something to talk about.
"He might give a lot of credit to us, but I'd give a lot to him too," Turkowski said.