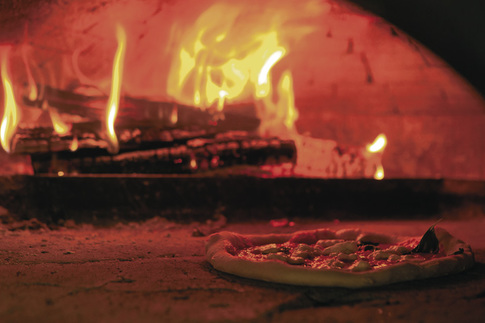 The long-awaited opening of Nomad Pizza in the Princeton Shopping Center is on target for May, says co-owner Tom Grim. It represents the fourth brick-and-mortar location for the wood-fired artisan pizza business that he and Stalin Bedon started in Hopewell in 2009 and which has since added two outlets in Philadelphia.
That is, of course, if you don't count the pair's mobile business: the oven mounted on the back of a 1949 REO Speedwagon that started the whole operation, and which is still in use for private parties.
The newest Nomad, taking shape on the spot that had for many years been an Amoco gas station, represents a return to the Princeton business scene for Grim, who co-founded Thomas Sweet Ice Cream with another partner back in 1980. (He sold the business 18 years later.) Despite his acknowledgement that "Now is not a good time for retail or for shopping centers," he's happy to be back in town.
"Everyone keeps telling me we're going to be successful, which makes me nervous," he says. "Either one of two things will happen. Either we won't be busy and I'll kill myself, or we'll be too busy. I was kind of hoping we could open in the winter so we could start off slowly. As it is, we're going to open with a whole garage full of seats."
While the original garage has been demolished, windows on two long sides of the newly built structure mimic overhead garage doors. One side even rolls up completely, as for a garage, and leads out to what will be a bluestone patio with seating for 50.
The partners are also applying for a winery liquor license. The New Jersey liquor law for BYOB establishments recently changed. They can still offer wine from only one winery, but that winery no longer needs to be within the state's borders. In addition to welcoming customers to bring their own beer and wine, Nomad will offer wines from Meadowcroft in Sonoma, in California.
Grim describes the Princeton restaurant as "Hopewell on steroids." Pizza will still be the focus, but with two different six-foot ovens producing two styles of pie: Neapolitan and Roman. The former style, which Nomad built its reputation on, is beloved for its soft rimmed crust that's charred on the bottom and for its simple, fresh toppings. Roman-style pizza, which was added to the Philadelphia Nomad menus a while back, features a thinner but sturdier and fully crisp crust. Don't ask Tom Grim which style he prefers. "It depends on the day. I love them both," he says diplomatically.
Princeton's ovens are being made in Italy and assembled in California. "They're the same oven as we use on the truck, but not in Hopewell," Grim explains. "We found that the one on the truck works better under high demand."
One oven is fully wood-fired for authenticity, and will be kept at around 850 degrees Fahrenheit to produce the quick-cooking that Neapolitan pizzas require. The other is gas-fired and will be kept at a lower consistent temperature — not just for Roman pies but also for a possible new addition to the menu: calzones. Due to their thickness, calzones require longer cooking.
While offering a full roster of the variously topped pizzas that have made Nomad successful – among them Trenton-style tomato pies and vegan pizzas – Princeton's menu will differ from its siblings in some ways. "Besides playing around with calzones a bit, we'll add a few appetizers — a charcuterie platter maybe — and do a few more salads," Grim says. "And we're going to have dessert. We may, just for fun, bring in a soft-serve ice cream machine. We may have espresso."
But as far as entrees go, it's going to be pizza. "We thought about doing pasta, but then we want to stick to what we do," Grim says. "I think that's why Hopewell is successful: because we're focused on one thing."
He'll leave pasta — and the take-out pizza business — to another tenant of the shopping center: Nino's Pizza Star. "I don't think this is going affect his business at all," Grim predicts. "People don't go out for dinner at the pizzeria. They go there to get pizza. Ours is a totally different experience. I know he's upset. In a way I understand it and in a way I don't. I mean, if you're open on Nassau Street there's nothing to prevent someone from opening a pizza place right across the street. We experienced that with Thomas Sweet: yogurt places opened; ice cream places opened. You just have to be different."
By mid-February, much of the Nomad building's exterior was in place, including accents of smooth, horizontally laid cedar-plank siding where there isn't glass. HVAC and other main systems had been installed and the concrete floor was about to be poured. Grim and general contractor Paul Elrath of Elrath Construction in Yardley, Pennsylvania, agreed that once the floor was done, they were in the home stretch.
"This job's relatively easy," says Elrath. "Unlike other restaurants, there are no stoves, hoods and hood vents, griddles, or fryers." The high, beamed ceiling of the main dining space had already been stained and will remain exposed. Gray subway tiles will line the walls around the area where the two pizza ovens and a simple kitchen will be situated. A color scheme of grays and other neutrals will dominate the furniture and painted walls, which will be punctuated with reclaimed wood.
At one edge of the property plans call for a six-foot landscaped area that may hold a rain garden and plantings to provide a degree of shielding from the row of stores across the way. A separate glassed-enclosed space adjacent to the dining room will be fitted out with a sliding barn door and become a private party room.
Elrath Construction is not new to work in Princeton, having done construction for Arlee's Raw Blends and Jammin' Crepes on Nassau Street. Edens, owners of the Princeton Shopping Center, previously contracted Paul Elrath and his firm to help with the new Orvis store, and he is currently working to get the Lilipies artisanal bakery space up and running. "Every day, people stop by and ask when [Nomad is] opening," he says.
The building's shell was designed by Joshua Zinder Architecture & Design and the interior mechanical systems were under the direction of Steven S. Cohen. Both architects are located in Princeton. The interior design is by Groundswell, a restaurant design group based in Philadelphia.
"This is the first time that Stalin and I have hired a restaurant designer," Grim says. "This is a big, important project for us. Hopewell was expensive, but wasn't anything as expensive as this building."
Grim and Bedon will be based at the new restaurant until it becomes established, including manning the pizza ovens. They're training new staff in Hopewell now and will take them to Princeton when it opens. Grim expects to have a kitchen staff of perhaps eight.
Nomad Princeton will be open for dinner only at first, but Edens will be requiring them to be open for lunch and dinner. "We're going to start with dinner, then six months later open for lunch on weekends," Grim says. "Then open weekdays, then eventually open Mondays…"
Grim, 64, lives in the Hopewell-Pennington area. Bedon, 46, has lived in Pennington, but is currently building a house in Stockton. The pair initially searched downtown for a location for their fourth Nomad (including the space that is now Jammin' Crepes), but nothing clicked.
Now, Grim says, "We're back [in Princeton]. And it's better than being downtown because we don't have to worry about parking." On the Web: nomadpizzaco.com.
Food writer and restaurant critic Pat Tanner has covered the Princeton dining scene for more than 20 years. She blogs at dinewithpat.com.